Increase Wharf Utilisation and Eliminate Overloading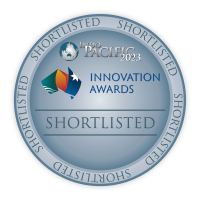 Mitigate the risk of parted mooring lines and damage to the deck.
Improve tracking of asset and health utilisation to extend the operational life of critical infrastructure.
Gain visibility of dynamic mooring loads and load distribution.
Optimise berth utilisation by validating and refining operational windows for moored vessel.
Monitor performance of critical wharf infrastructure with WharfWise
WharfWise is a flexible monitoring solution that provides independent diagnostics, validation, and oversight on the performance of critical wharf infrastructure. It provides real-time load monitoring through an online interface, with automated notifications and alarms to alert operators when load conditions are approaching or exceeding preset thresholds. AMOG, in partnership with remote monitoring specialists Omniflex, can supply WharfWise for new or existing port infrastructure as a turnkey monitoring solution.
Capture loads at suitably high sample rates to ensure peak load events are resolved
Sensor node for data capture, edge processing & telemetry or for bespoke applications
Remote balance system throughput to increase endurance in battery-powered sensor nodes
Standalone, customised iOS or Android application for Quick Release Hook load monitoring and remote release
Alerts functionality to automatically notify nominated personnel (via email or SMS) when loads exceed present thresholds
Real-time online monitoring interface with configurable user permissions for remote or restricted access as required
If you would like to know more, please contact us using the form below.